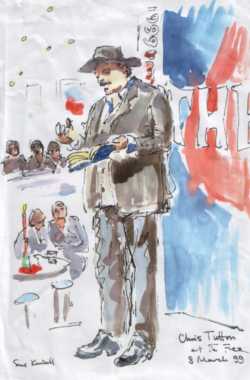 Chris has appeared several times on Loose Ends on BBC Radio 4, one of his performances was included in a best of the year compilation programme and on Shaun Keaveny's Breakfast Show on BBC 6 Music. He has recorded a series of poems for Radio One – The Mark Radcliffe Show and has featured on Radio 5 Ruscoe on Five and Nationwide with John Inverdale (also with John Hegley, Adrian Mitchell and Roger McGough). He has guested frequently on many regional BBC radio programmes (including performances with Spike Milligan and Helen Dunmore).
His TV appearances include features on Carlton Television as resident Poet on Shift (networked) and The Warehouse, performances on FYI – For Your Information, as the FYI poet on Carlton On Digital, as well as guest appearances on The Big Breakfast on Channel Four and on HTV and Channel One. A clip of Chris in performance was shown to launch Carlton On Digital, the first terrestrial digital TV channel in the world.
A festival favourite, he is a regular guest at many major literature festivals, including the Edinburgh International Book Festival, the New Writing Partnership, Norwich, St Ives Festival; Wonderful Words, the Chichester Festival, the Lambeth and Redbridge Literature Festivals, the Richmond Book Festival, the Ledbury, Manchester and Bristol Poetry Festivals, Birmingham Book Festival, Cambridge Wordfest, Dartington Ways with Words, Bath, Cheltenham, Wells, Oundle, Leicester, Louth and Harrow Literature Festivals and many more. He launched Westwords 2006, London's largest festival of the written and spoken word at the BBC, White City.
He performed his fifth collection, Seasons of Winter, extensively throughout the UK in theatres including The Lyric Theatre, Hammersmith, The Riverside Studios, Hammersmith, Nuffield Theatre, Southampton, The Oldham Coliseum, Castle Theatre, Wellingborough, The Burton Taylor Theatre, Oxford and the Marlborough Theatre, Brighton etc.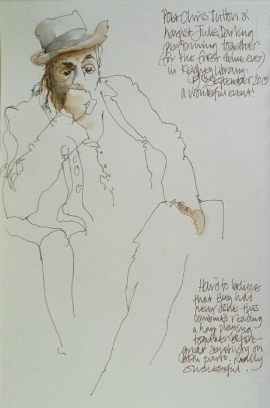 © Deborah Rehmat
deborahrehmat.wordpress.com
'I could listen to Chris Tutton all night. He is absolutely brilliant.'
'Chris' performance was excellent, he can really hold an audience.'
'Chris'...witty, dry sense of humour and excellent short lines, nobody better!'
'Absolutely marvellous'
'The best poetry event I've ever been to.'
'Tremendous. Simply outstanding.'
'The best five pounds I've spent in the UK!'